SUPPORT USA MANUFACTURING!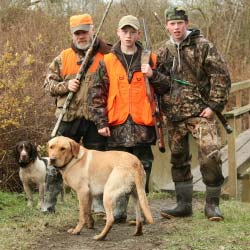 Our goal is to re-establish "MADE IN THE USA" as a symbol for quality and excellence!

America is the greatest nation in the world and we need to encourage the use of "Made in the USA" products to stimulate our economy, increase American jobs, and return America to the divinely-inspired vision of our founding fathers. Let's not waste the efforts of all those that fought to keep us a free nation and a great Republic.

Scaff's Enterprises celebrates more than 40 years in business! What began as a small home-based business in 1969 by Bill and Marilyn Scaff, has grown into a full manufacturing company based in Loganton, PA. We are a family business proud of its reputation and success. We believe our goals are achieved because we are a unique company with a dedicated staff.

What Makes Us Unique:
100% MADE IN THE USA! We support American-made goods, American suppliers, and we do not import products. We manufacture everything in our factory here in central Pennsylvania!


MATERIALS: Our materials are selected for the highest quality and durability for outdoor weather conditions. From RipStop to Ballistic Cordura® to flame-resistant 20-oz vinyl – we use premium materials for the utmost in durability and ease of maintenance.


FEEDBACK COUNTS: Actual Sportsmen help to design and field test our products. Their suggestions and improvements are all incorporated into our products to ensure that we provide what our customers really want and need! Our products are distinctive, as they show our attention to detail and our customers.


PERSONALIZATION: We specialize in creating custom and exclusive items for our customers. Our ability to quickly manufacture affordable, high quality, NEW and CUSTOM products has built our reputation.


CUSTOMER LOYALTY: Our commitment to excellence and customer service has resulted in a loyal client base and a 40-year record of On-Time deliveries!
I look forward to serving you,